This is unbelievable.
A week after her divorce from husband Marty Caffrey was finalized, Reality Wives can exclusively report that Real Housewives Of New Jersey star, Danielle Staub, 56, is engaged to Olivier Maier!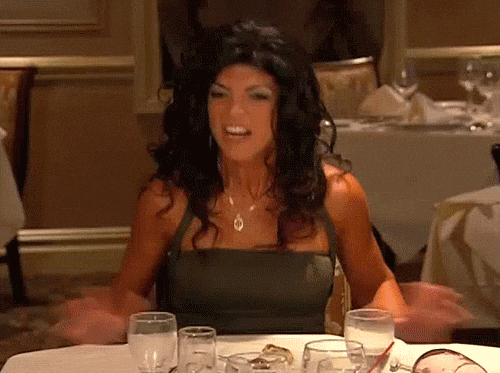 The pair got engaged early Thursday morning while on a tropical getaway to the Cheval Blanc maison in St. Barth. They're planning on flying back to the states to pick up her ring at Van Cleef, and saying their "I dos" on Monday at a ceremony at the Justice of the Peace in New York City, surrounded by friends including Danielle's friend and RHONJ costar Teresa Giudice.
"I'm madly in love. I'm feeling elated and excited for the next stage of my life. I'm going to marry the man of my possible dreams and hopefully I'll spend the rest of my life in bliss," Danielle says
Oliver, who is German and French, works as the managing director of Speyside Equity, a private equity firm based out of New York City.
But he claims he's also the Duke of Provence, something Danielle  says she didn't know about until recently. Oliver says his family owns 15 vineyards in the South of France as well as two castles. Their marriage would mean that Staub would become a duchess* (see bottom of article).
We broke news of Danielle and Oliver's relationship broke Monday, when we shared a photo of them kissing on Nikki Beach in front of a rainbow.
The two had met in October through a mutual friend whom Oliver was dating at the time, though didn't start their romance until this month after sharing a passionate kiss at the Baccarat hotel.
It was far from love at first sight for Danielle, "I quite frankly couldn't stand him when I first met him," Danielle jokes, explaining that she took some time to get used to the blunt characteristics of Oliver's personality. "He's so strong-willed, and at first, I read that as rude, and arrogant and entitled. It wasn't until I got to know him that I saw the other side."
She says she wasn't looking for love, either, after her tumultuous, 10-month-long marriage to Caffrey. "I wasn't open to it," she confesses. "I was ready to just go out with my girlfriends in Manhattan. I didn't want this."
That wasn't the case for Oliver, though. He was determined and pursued Staub, attending dinners with her and her friends until he swept her off to St. Barths, where their romance blossomed.
"People don't like to take a risk, but I took a risk," he stresses. "Danielle's one of the smartest people I've met. People have preconceived notions about her from reality TV, but she's a smart women. And I was instantly attracted to that."
Though he pursued Staub for weeks, she remained coy. Her friends encouraged her to go for it, she says. Eventually, Oliver went in for the kiss.
"In that moment I said I still tried to push it off, but as the weeks went on, he did not let off the throttle, and he pursued me adamantly. And he got what he wanted. We fell madly in love," Danielle recalls.
As for his ex, Oliver takes the blame for how their relationship ended. "I didn't intend for it to happen that way, it's my mistake. If you have to blame it on someone, blame it on me, not Danielle," he says. "I care about Danielle. She's phenomenal, comes from a good family and is beautiful beyond belief. I'm happy we're together."
This will be Oliver's second marriage. He and his ex-wife share a 12½-year-old child.
It's Daniells's fourth marriage and 21st engagement, "Here we go again," she jokes. She and Marty Caffrey split in August, four months after their wedding. Staub and her third second husband, businessman Thomas N. Staub, split after 14 years together before RHONJ began filming. They have two daughters together: Christine, 25, and Jillian, 20.
Blending their families will come in time. Now, Danielle and Oliver are just looking forward to starting their lives together. The two plan on living in New York City, though Danielle wants to purchase her home in New Jersey for her daughters. "Most likely we'll be spending a lot of time in France," she gushes. "We'll be going to castles and all that, and living in Paris for a certain amount of months out of the year."
"It's going to be far different than Jersey, that's for sure," she says.
*Oliver's title is an honorary one. The last Duke Of Provence was Abbo in 739.
Source: People
Amazon
Real Housewives Of New Jersey • Manzo'd With Children • Teresa Giudice
iTunes
Real Housewives Of New Jersey • Manzo'd With Children •
Follow @real_housewives for commentary, gossip, dirt, news on the Real Housewives & everything else! I say what you're thinking

— The Real Housewives (@Real_Housewives) October 20, 2012
Tweet
Follow @RealityWives