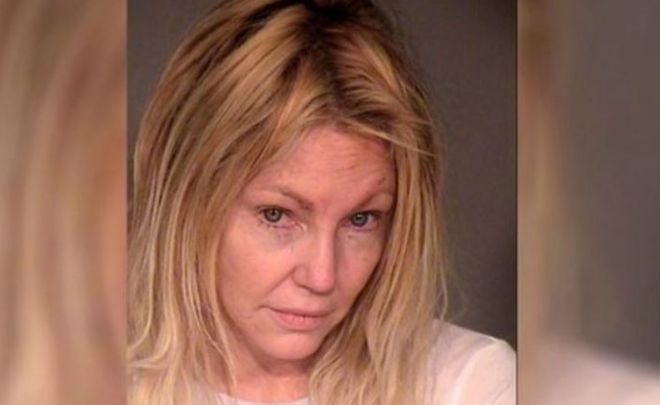 Heather Locklear was hospitalized just hours after she was released from jail following her alleged attack on a police officer and an EMT, PEOPLE confirms.

Paramedics and Ventura County sheriff's deputies were called to the actress' home to treat the 56-year-old for a possible overdose, a source confirmed to PEOPLE.

Ventura County Sheriff's Office spokesman Capt. Garo Kuredjiann tells PEOPLE deputies were called in to assist EMTs on a "medical call" that occurred the star's Thousand Oaks, California, address about 3 p.m. The patient, whom he did not identify, was transported to Las Robles Hospital & Medical Center, Kuaredjian says.

Locklear was released from custody Monday morning less than 12 hours after her arrest for allegedly attacking a police officer and an EMT who had responded to a disturbance call at her residence, PEOPLE previously confirmed.

Upon her release, the actress was accompanied by attorney William Haney and wore an oversized gray hoodie and baggy pajama pants and sneakers, according to footage of her exit reviewed by PEOPLE. She did not reply to questions from reporters at the scene.
A jail official says she looked "disheveled" as she left.

A lawyer for Locklear did not return PEOPLE's request for comment.

Locklear intended to return to the hospital to get the help she needs after her release, PEOPLE learned earlier on Monday.

Kuredjian previously told PEOPLE that deputies went to Locklear's home on Sunday after receiving a disturbance call shortly after 11 p.m.

The actress was allegedly "extremely intoxicated" and "arguing with friends and family" when they arrived, according to Kuredjian. As deputies tried to separate her, she kicked a responding officer.

She also allegedly kicked a paramedic in the upper chest area while on a gurney, Kuredjian said.

Locklear was taken to the hospital, where she was medically cleared. She was then taken to the Ventura County Main Jail and booked for two misdemeanor counts of battery on a police officer or emergency personnel.

She has not yet entered a plea and is scheduled to appear in court in August, records show.

Last week, first responders were dispatched to Locklear's home after a call came in from the sheriff's office for a "suicidal" person "who is violent," according to an incident report from the Ventura County Fire Department obtained by PEOPLE.

The report indicated that the individual — identified by TMZ as Locklear — had previously threatened to shoot deputies and had a handgun registered to her.

However, the individual was not armed, authorities said.

Following that incident, Locklear was transported to a hospital for a psychological evaluation.

Source:

People Magazine