Blac Chyna Covers Cosmo, Says She's In Long Term With Rob And Doesn't Care What You Say About Her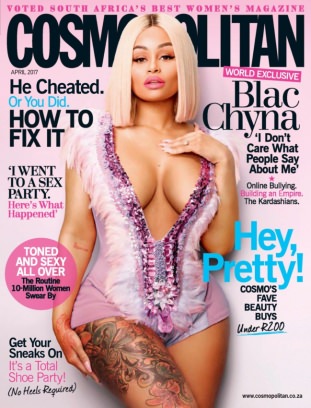 "I've dreamed of being a Cosmo Girl for such a long time. I feel so blessed and super humbled to be a part of such an empowering brand. Thank you @cosmopolitansa and @johnsiavis for taking such good care of me.
Click the link in my bio to check out the interview."
Inside the magazine, on stands now, Chyna reveals that her relationship with Rob, 30, slowly went from being friends to something more.

"It was a shock. I guess when you get to know somebody and you're around them, you see things in them – and you want to be more than just friends. I think that's what ended up happening."
So what about all the drama that has happened between them over the past few months?
"I feel like every person who's in a long-term relationship, or who is committed to their person, goes through ups and downs. Everything isn't always going to be peaches and cream. If it is, then it's fake. I'm in it for the long haul, so I feel like my advice [for anyone in a similar situation] is therapy, know each other's family, calling each other's moms. I feel like everything isn't going to be perfect, but I know we love each other and we're fighting for each other, and the people we surround ourselves with are rooting for us. It makes everything much easier."
Chyna and Rob welcomed their first child together, Dream Kardashian, in Nov. 2016, and then made headlines when Chyna abruptly moved out of Rob's home, taking Dream with her. Now, she says that having Dream helps her keep things in perspective.
"And we also have Dream. So we're looking at the bigger picture. We have a whole other human being that looks up to us, so we have to makes sure she's taken care of. He's a wonderful dad. I think it's because he had such a great father."
Before getting together with Rob, Chyna dated Tyga and they had one son, King Cairo. Tyga is now in a relationship with Rob's sister, Kylie Jenner.
"It's important to me and Tyga not to have negative energy. Kids breathe energy. You have to learn to forgive and forget. Many people don't like to forgive others. Even if someone does something awful to you, you need to forgive them to be able to move on with your life. You can't hold on to that stuff because it'll make you a bitter person and it'll block your blessings. You need to let it go and be free."
Although they've had their ups and downs, Chyna believes that Tyga was in her life for the sake of having her son.
"I really feel people are in your life for seasons or reasons, and the reason I was with Tyga was to have King," she explains. "Tyga and I dated and we found something in each other, there was love there, and the outcome of that was King. I feel happy and blessed that we can co-parent: we have a healthy relationship to be better for King."
All in all, Chyna is confident that she and her family have a bright future together.
"I think it's going to be a wonderful year," she says.
Source:
Instagram
,
ET Online