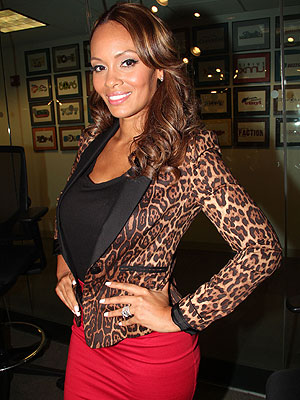 It's been a roller coaster ride for Chad Johnson and Evelyn Lozada. Just during these last four weeks;
• Chad allegedly headbutted his wife, of which she required 5 stitches.
• Evelyn subsequently filed for divorce.
• Chad was then cut from the Miami Dophins and fired as a spokesperson for Zico coconut water.
• Evelyn appeared on ABC's Nightline to tell her side to the sad story.
• Chad then tattooed Evelyn's face on his leg; when questioned about the tattoo, Chad replied, "Child please, that's my wife!" then added, "I don't give a flying pretzel in skittle rainbow hell what she filed for", in response to Evelyn filing for divorce.
Unfortunately for Chad, Evelyn is declaring, the relationship cannot be repaired. Sorry Chad, that tat is not going to work.
Here's what Evelyn told People:
"You can't repair this. Not right now. You just can't. This is something you should never tolerate. I don't care what the situation is – or who the man is. I'm not naive, I didn't think he was going to be perfect, but three weeks after we were married? I felt like he was not even trying."
Evelyn then demanded a divorce that evening, which is when Chad allegedly turned violent, grabbed her face and head-butted her in the forehead, resulting in her getting five stitches at the ER.
"I had blood in my eyes, I was tasting it. I remember realizing, oh my God, the news is going to get out. I was so humiliated."
Chad's people need to have him on suicide watch. It is alleged that Chad has been abusive towards Evelyn, from the beginning of their relationship, a source close to the couple have stated, adding that the marriage was volatile in nature and a mistake from the start. Post your thoughts below.
Source: People, Radar Online