Close Your Legs To Married Men!
Nene Leakes, former Real Housewives Of Atlanta star is being sued by her boyfriend's wife. Ooops.
Linnethia 'Nene' Leakes is being sued by her boyfriend's wife, Malomine Tehmeh-Sioh, for sleeping with her husband, which caused her marriage to end according to legal documents. I hope Malomine is suing Nyonisela too, he was the one that took those marital vows.
Malomine claims in the lawsuit, that Nene and boyfriend Nyonisela Sioh committed adultery while he was still married to her.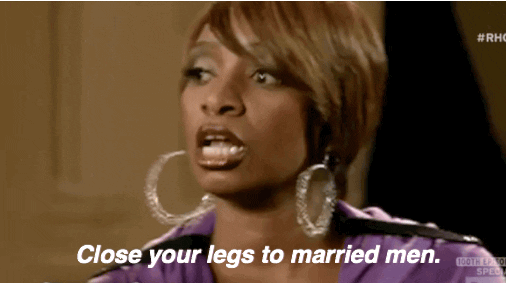 Malomine says Nene posted picture after picture of her and her new man, humiliating Malomine and destroying her relationship with her husband.
Malomine claims she suffered emotional distress, mental anguish, and a loss of affection. In case you're wondering, North Carolina is one of 7 states where a person can sue a spouse's extramarital partner for alienation of affection. Most states have disallowed such suits, because it's really just the game of love. Malomine is suing for more than $100,000.
I'm sure Nene will use Porsha's template of they were separate before we even starting adulterating.
Nene will be spending a lot of money on her lawyers are she is suing RHOA producers and Bravo for a toxic, racist workplace.
Source: TMZ
~