Failure To Communicate
Well, I guess what they say about twins is not actually true. Our favorite twin sisters are having problems communicating with each other and I wonder why?
While the girls are having lunch, Tamera mentions to Tia that an offer was brought to their managers and agents in regards to the girls
doing a show together. Due to Tia being in Utah filming her movie; they could not decide on a date or time to get everyone together to discuss this opportunity. Tia gets upset with Tamera because no one brought this to her attention and if they had, she would have made it possible to make the meetings and bringing this offer to life. Tia mentions to Tamera that the lack of communication between them is not working and something needs to be done about it.
In the meantime, Tamera has been asked by DeVry University to be a representative for them and speak at their annual "Her World" event, which consist of 1000 young ladies. As Tamera is meeting with the director, they are going over what Tamera will be speaking about; motivation, empowering, reaching their dreams and goals and most of all loving and being themselves. Tamera's speech is to be at least 20 minutes. 20 minutes is actually 40 minutes and Tamera is terrified. She mentions to the director that, that 20 minutes is a long time and she will try her best.
Sign language? Can a child aged 6-9 months, learn and understand sign language at such a young age? According to studies and doctors, yes they can. Tia returns to the play center with her son Cree, where they meet another mother and her little son. The mothers are sharing with one another all of the new activities their son's have learned. Nikky mentions to Tia about signing Cree up for a sign language class. At times mothers really don't understand what their children are trying to tell them at a young age and sign language is a great way for them to communicate until the child is actually speaking. Tia is excited about the class and decides to enroll herself and Cree.
Tamera decides to talk to their cousin Jerome about why she and Tia are not communicating very well. Jerome suggests that they seek professional help and go see a therapist, which only seems right. Who knows it could be the answer to the problem and so much more. The sisters agree to a therapist, I think it is a great idea. While meeting with the therapist, they participate in role playing and they are assigned homework. All in all their first session worked well. The girls found out that putting one another down and not supporting each other just doesn't work. Tamera can't be afraid of bringing an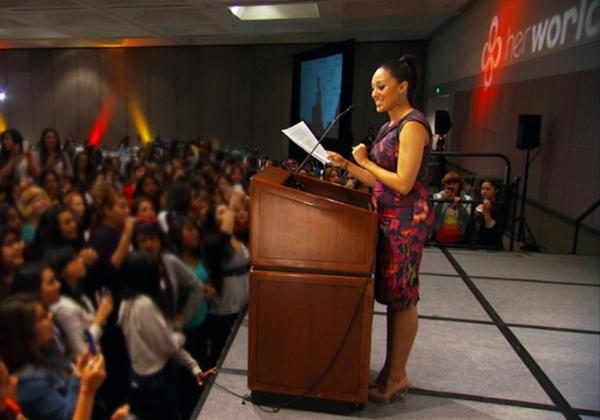 awareness to Tia's attention and letting her know how she feels. Tia needs to be more supportive to Tamera and not be her mother, she already has one.
What a success. Tamera knocked it out of the park with her speak at the DeVry event. Thanks to her husband, Adam, for some guidance and suggestions and also to her sister Tia for her support and being there, which was a huge surprise to Tamera.
I honestly believe that our favorite sister's are going to be fine. One session of therapy is not going to solve everything, they need to continue attending the sessions. But at least they are headed in the right direction.
Keep it up Mowry girls, we love you!